El grupo de investigación RNM-912 'Ingeniería costera', constituido en 2012, forma parte de la Universidad de Cádiz y cuenta con profesionales con una amplia experiencia en el desarrollo de líneas de investigación relacionadas con el estudio de obras marítimas.
El grupo de investigación está dirigido por el catedrático de Universidad, Juan José Muñoz Pérez, formando parte del mismo los doctores Antonio Contreras de Villar y Francisco Contreras de Villar, que coordinan a un excelente equipo de doctorandos y becarios. Como colaboradores habituales del grupo se encuentran los doctores Gregorio Gómez Pina, Andrés Payo, Bashar Mozahedy, Jorge Román, Marina Navarro y Pedro Jesús Extremera, además de los ingenieros de Caminos; Pablo Cabrera, Gabriel Chamorro, Francisco Javier García y José Cano. Todos ellos cuentan con una gran experiencia en la búsqueda de soluciones de todo tipo a diversos problemas del litoral y de zonas portuarias.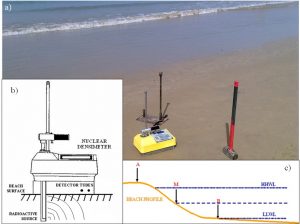 En los últimos cinco años, en el seno de nuestro equipo se han defendido seis tesis doctorales, y hemos un total de 57 comunicaciones, 37 de ellas en revistas de impacto. Asimismo, hemos participado en 26 proyectos de investigación.
En la actualidad, los miembros del grupo de investigación están trabajando en los siguientes proyectos:
'Desarrollo de una metodología para el estudio del hundimiento de bloques de hormigón en fondos arenosos', financiado por el plan propio de la Universidad de Cádiz.
 'Obtención de modelos digitales de elevaciones en playas dunares de orografía abrupta y gran pendiente empleando técnicas UAV-SFM', colaborando con la empresa Valguer Consultoría y Estudios de Ingeniería S.L. y financiado por el Campus de Excelencia Internacional Global del Mar (CEIMAR).
 'Validación metodológica para levantamientos fotogramétricos mediante vehículos no tripulados en zonas dunares', financiado por la Fundación Campus Tecnológico de Algeciras (FCTA).
 'Strategies for Coastal Protection for the provinces of Cádiz, Málaga and Almería considering the effects of climate change',  promovido por EUCC con Fondos Europeos.
Nuestro grupo ha colaborado en investigaciones nacionales e internacionales con entidades de reconocido prestigio como el IH Cantabria, la Universidad Politécnica de Madrid, Universidad Politécnica de Valencia, el British Geological Survey de Reino Unido, así como el Laboratorio Nacional de Engenharia Civil (LNEC) de Lisboa.
Con respecto a las líneas de investigación en las que el grupo ha trabajado se encuentran, de forma resumida, las siguientes:
Dinámica sedimentaria y morfodinámica de playas y estuarios
Estudio de la evolución de dunas litorales y su restauración
Obras marítimas y protección de costas
Regeneración de playas
Estabilización de acantilados marítimos
Hundimiento de diques en talud en fondos arenosos
Modelos digitales de elevaciones en playas, estructuras portuarias y costeras con vehículos aéreos no tripulados